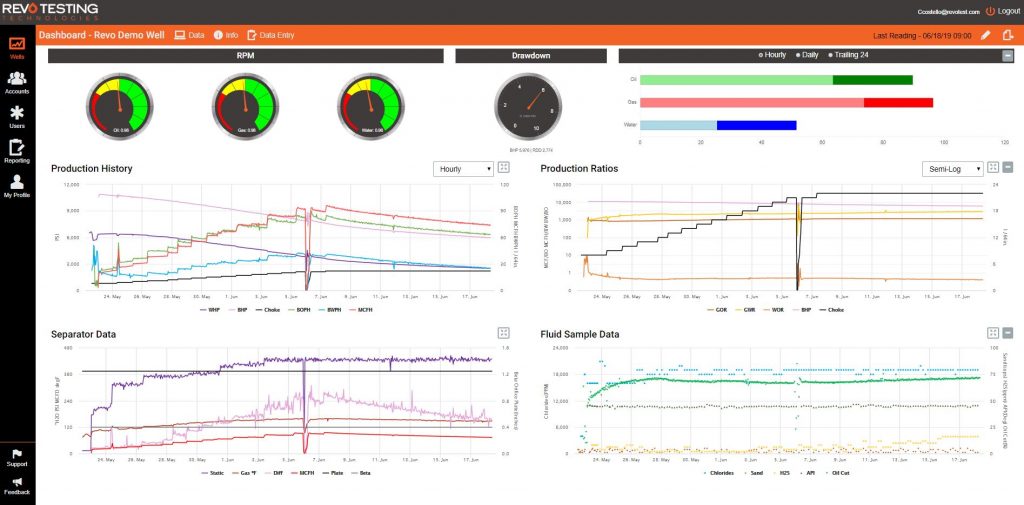 The Revo Performance Management (RPM) portal has been designed to provide a better solution for monitoring and managing flowback and well testing operations. RPM allows users to experience real-time flow testing data and analytics like never before.
Utilizing the RPM portal eliminates the need for spreadsheet based reporting and allows operators to view well data as it is entered on their computer or mobile app. You will no longer need to wait for scheduled emails to view the status of your wells.
Data plots and key performance indicators can be viewed to help quickly understand what is happening with your wells. Well test and production data can also easily be exported for use in other data storage and analysis tools.
Revo's well test hardware is fully integrated with the customer portal and automatically uploads well test data every hour. If using a third party flowback crew, the RPM portal provides an easy to use mobile app and web based interface for third party field users to enter and view test data.
The RPM portal is available through a web browser: RPM Portal. It is also available as a mobile app in the Android store: Android App and the Apple Store: Apple App.
Customer and field user guides for both the web and mobile apps can be downloaded below:
Revo Testing Portal Web – Field User Guide
Revo Testing Portal Mobile App – Field User Guide
Revo Testing Portal Web – User Guide